The power to create change in your life arrives with one simple decision – "I want to make change".
With The One Command you begin, "I don't know how to accomplish it" – because you don't know. If you did you would already have done it. But there is a part of you that absolutely has the answers, solutions and ability to uncreate your existing limits, and to create new ways of being.
You start with, "I want to make change" and as you apply the 6-Steps and One Command process you begin to unravel the past limits and create new brain connections, with your new intentions.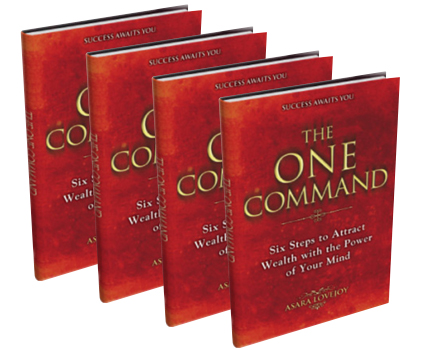 "A new inner change in you makes all the difference in an outer change in your circumstances."
The first Phase is becoming AWARE and AWAKE to your inherent built in abilities that are currently not active and to believe, accept and act on the belief that you do have these abilities, and that you can activate them rather quickly, for positive results.
Some people are in a very low vibration of self-confidence and resist even believing that, "IT IS POSSIBLE." Others are natural learners and love to investigate new possibilities – especially when they can be life changing.
I've had the privilege of seeing many individuals apply The One Command and 6 Step Process, who give me a call with my favorite statement, "Asara you won't believe what happened." I respond, "Yes, yes I will tell me what happened, and he or she shares his or her new event experience with me."
This is absolutely lovely. The best experience in the world is seeing a person improve their peace of mind, joy, happiness and success. And you can be one of those very people in short order by engaging in The One Command education and training programs.

"According to the medical profession I am a walking miracle. At 89 pounds with cancer, I was able to turn my cancer around by going into the powerful theta brain wave and apply it to my health. I'm a happy, healthy 155 pounds now and the doctors say I am literally a miracle.

The One Command arrived in my email box from my good friend Asara Lovejoy during my recovery and I used the process to stop my negative downward spiral over fears of emotional and financial recovery and change it into my positive reclamation of my life. I use it daily and continue to watch my dreams and desires come true."
– Maureen Bell, author Multicultural Feng Shui

I wanted to share with all of you how my husband's hospital bill of $192,000 was forgiven! We had put in the paper work to the hospital to see if we could have help with our medical bills after my husband had 2 emergency surgeries. (Our insurance company cancelled our plan 3 days after his first surgery.)
I drew a check on a piece of paper and wrote a check for Paid in Full for Chris's Hospital Bills, and put the date Oct. 21, 2011. (The hospital was suppose to notify us by Oct 1st if they were going to help us.) When we didn't hear from the hospital I started worrying AGAIN. It was now Oct. 15th and still no word from the hospital. I kept thinking 'no news is good news' and kept commanding for what I wanted…IDKH I trust and believe TOC works in my life. I only know I am peaceful, calm and love the people making the decision, and our hospital debt is forgiven. I am so grateful and fulfilled.
On Oct. 21st, 2011 my husband received the call saying our hospital bill was paid in full!!! I am sure all of you know how we felt when the call came!!! Happy, Excited, Wonderful, and the list goes on and on. (I should have put an earlier date on the check, but I wanted to give the Universe plenty of time to get all the paper work done…now I see it was my Beta Mind talking to me.
Whenever I would read how someone else would use TOC and create what they wanted…I silently gave thanks for their Victory because I knew that my day would come to. And it did in a HUGE Way!!
Thank you to Asara for creating TOC and giving us all the opportunity to change our lives one command at a time.
It's your day, Command for a Great One! - Charli

"You must try The One Command. This is what it did for us!

Moments after stating The One Command, We received a miracle. Turned down time after time for 3 years in our attempt to refinance our home because of bad credit due to illness, we issued The One Command and seconds later "clicked" on the right lender on the internet who said YES to our dreams and made them come true!!! We were able to refinance our home at a low interest rate, lower our monthly payment, and immediately noticed an increase in our credit rating. We now also own two brand new cars all from the teachings in The One Command.

This may sound too good to be true but we absolutely testify that it happened that fast and miraculously. There is a reason that it did and you learn why in the teachings of The One Command!"
- Deborah and Robert Montgomery

"The One Command produces amazing results

I attended the Commanding Wealth Free Preview where we applied The One Command for a brief couple minutes, and I was astounded by the result that occurred the following day. I have had an IRS judgment for $15,000 plus accrued interest hanging over my head for about 1 1/2 years. Even though my accountant assured me that it was their mistake and that the process would probably take two years, it constantly bothered me.

We had a preliminary meeting with the IRS people scheduled, and the morning after the Preview my accountant called me to report that he had all the paperwork completed and calculated that instead of me owing $15,000 to the IRS the IRS would owe me a $500 refund. I am now excited about applying The One Command to all aspects of my life, including more financial dealings."
- Lloyd Seven Sieden
"Yes, I want to make change in my life!"
If you are willing to make changes in your life and treat that choice as if you are going to school to get an education, you'll get even quicker, faster and better results. We have it simplified and organized with incremental growth in our programs that expand your ability and awareness each step of the way. And you can dive in at any level you want to start.
You start with the background and foundation knowledge that answers the how and why questions, but we also gift you with the practice itself to implement change in the first few moments you learn the process.
Each section of The One Command Self-Growth training is set up as ONLINE videos, and audios that you can download to reinforce what you are learning, listening again and again until it becomes second nature to you to think in these new ways. In addition, we provide articles and exercises and YouTube links that support your learning.
If you are starting to open to the extraordinary abilities that are inherently yours then the Self-Growth programs are where you want to begin. In the past we have only offered these trainings in live events or paid programs but you begin with the FREE course and then continue your education. And advanced learners often revisit this material to reinforce where they are going and what they are doing.
We recommend you start at the "Basics" and then pick and choose the programs that resonate the most with you in a particular application